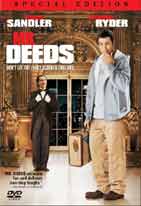 The mixture of Adam Sandler and Frank Capra sounds preposterous, but somehow the pairing paid off with the remake of the classic comedy "Mr. Deeds Goes to Town". The new Mr. Deeds is coming to DVD in a few months from Columbia TriStar Home Entertainment.
Small-town guy Longfellow Deeds goes to the big city to collect a $40 billion inheritance from a long lost uncle. Living in a palatial mansion with the services of an unusual personal valet isn't too bad. Things get even better when he meets a beautiful school nurse. But money changes everything, and things aren't what they seem – his sweetie is actually a journalist feeding reports of his outrageous behavior to the press! Now, it's up to Deeds to straighten everybody out – with a few right hooks and lots of common sense.
Given the typical anamorphic widescreen transfer and Dolby Digital 5.1 mix, the new disc will include an audio commentary with director Steven Brill and writer Tim Herlihy, two making-of featurettes, deleted scenes, a music video, production notes, filmographies and theatrical trailers.
On October 22nd, if you don't inherit "Mr. Deeds", you can buy it for $27.95.