Columbia TriStar unleashes the battle of Earth Vs. The Flying Saucers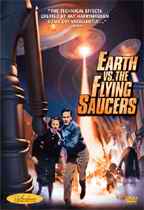 Fans of classic science fiction films and fans of Ray Harryhausen's work will be pleased to hear that Columbia TriStar Home Entertainment has scheduled the next entry in the "Ray Harryhausen Collection, " Earth Vs. The Flying Saucers, for release in September.
The film pits earthlings against alien humanoids in a violent battle for Earth's survival. When the zombielike aliens arrive at the US. Army Base in search of help for their dying planet, they try to make friendly contact with scientist Dr. Russ Marvin and his recent bride Carol. But the military greets their fleet of saucers with gunfire and the aliens are forced to retaliate. Can Marvin invent the ultimate weapon in a deadly game of beat-the-clock to save the human race?
The DVD will feature an anamorphic widescreen presentation of the movie with an English audio track and a selection of subtitles. The Harryhausen Chronicles, a featurette on Ray Harryhausen's work, is also included on the disc as well as the featurettes This Is Dynamation and The Making Of Earth Vs. The Flying Saucers. A Photo Gallery and Trailers will round out this release.
"Earth Vs. The Flying Saucers" is scheduled for release on September 17!