Updated specs on Pulp Fiction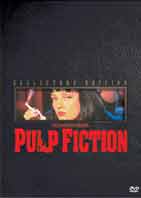 The announcement of a special edition of Pulp Fiction was a welcome one for fans of the series who were tired of their lackluster non-anamorphic U.S. DVDs, or their slightly better Canadian Alliance releases. Now, more definitive specs on the release, make the news even better.
Finally presented in anamorphic widescreen, the release will have audio in Dolby Digital 5.1. The many features awarded to the film include TV spots, a behind-the scenes featurette, a still gallery, "Tarantino Fiction" documentary, a trivia game, a screenplay viewer, deleted scenes, the Siskel & Ebert segment on the film, the Independent Spirit Award Ceremony, the Palme d'Or Award Ceremony, exerpts from The Charlie Rose Show and behind the scenes montages.
Still arriving on August 20th, the set will be priced at $29.99. You can preorder it now at the DVD Review Store.