The Muppets get unjumbled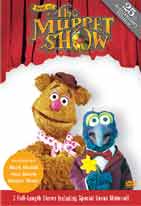 Every studio has found its own policy regarding television on DVD. Many shows are presented in complete seasons, while others are presented in a best-of fashion. But few shows have been as maligned on DVD as the wonderful variety show of days gone by The Muppet Show. Previous DVD releases have not even presented shows in their entirety, but instead come in disc after disc of highlight clips strung together from various episodes. Finally Columbia TriStar Home Entertainment is taking a step in the right direction by testing two volumes of complete uncut episodes. Although the episodes are not chronological or presented in season packs, it is certainly a good to at least have complete episodes at last.
Both discs will contain three episodes each in their original fullscreen ratios, the first volume will contain episodes guest starring Elton John, Julie Andrews, and Gene Kelly. Volume two will contain the episodes with Paul Simon, Raquel Welch and a very memorable episode with Mark Hamill and his Star Wars buddies. Each volume will also contain television spots.
Coming on September 3rd, The Muppet Show discs will be priced at $19.95 apiece.