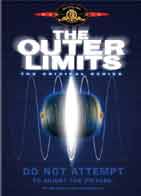 This fall will see the release of a great deal of science fiction television released to DVD. The second season of Stargate SG-1 the first season of the classic Outer Limits and season four of Star Trek: The Next Generation are all coming down the road.
The 1998-1999 season of Stargate SG-1 helped establish the series as a long-lasting success. As the show began to come into its own, and branch away from the 1994 film, the SG-1 team underwent many changes including Captain Carter joining with a Goa'uld and the realization of other Stargate teams.
The second season, which arrives from MGM Home Entertainment well over a year after season one will contain all 22 episodes of the second season in anamorphic widescreen and Dolby Digital 5.1 sound. Four featurettes and television spots accompany the set which arrives on September 3rd, and will carry a suggested retail price of $69.95, or $55.97 at the DVD Review Store
Also arriving from MGM is the first season of The Outer Limits, the series which controlled the horizontal and vertical back in 1963. All 32 episodes of the first season are included in the four disc set including the series premier The Galaxy Being. No extras to speak of will be included, but all episodes will be restored and presented in their original fullscreen. The DVD Review Store has the disc on pre-order for $63.97 available on September 3rd.
Also arriving on September 3rd from Paramount Home Entertainment is the forth installment of Star Trek: The Next Generation. All twenty-six episodes will be included remastered with Dolby Digital 5.1 audio. The forth season contains some of the series best shows including the conclusion to The Best of Both Worlds, Future Imperfect and The Drumhead. No information is available on the set yet, but expect features to be similar to seasons 1-3. More details will be posted here when available.
It looks like September 3rd will be a busy and expensive day for sci-fi fans. Thanks to MGM and Paramount for their continued dedication to these series.