Norman Lear television classics are coming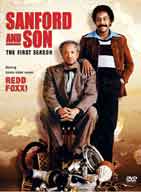 While many studios reserve their television releases for their newer hotter shows, Columbia TriStar Home Entertainment is sticking with the classics that made it great. The high sales for the recently released "All in the Family" set has prompted the release of more Normal Lear television starting with Sandford and Son: The Complete First Season and The Jeffersons: The Complete First Season.
One of television's all-time classic sitcoms, the Norman Lear-produced "Sanford and Son" stars Redd Foxx as Fred Sanford, a cantankerous 65-year-old, black, widowed junk dealer living in Los Angeles" Watts. Helping him is his restless son, 34-year-old Lamont.
Archie Bunker's equally loudmouthed neighbor George Jefferson and his wife Louise are "movin" on up" when George's dry-cleaning business makes him enough money to join the big leagues.
Both sets will contain no features whatsoever, but will be presented in their original fullscreen ration with Dolby 2.0 audio tracks.
This news is exciting both for fans of the Lear produced series and for the rest of us who may see some of our own personal favorite shows on DVD if this grand experiment from Columia TriStar works out. Both sets will be available for $29.95 on August 8th.