Miramax works A Hard Day's Night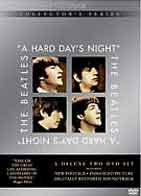 Everyone was quick to release the films of The Beatles on DVD when the format was launched, but this haste led to uniformly poor quality. Over the years, some of the Fab Four's work has been revisited with higher commitment to quality and Miramax Home Entertainment continues that trend with the new two-disc special edition of A Hard Day's Night in the coming months.
In 1964, the Beatles had just recently exploded onto the American scene with their debut on "The Ed Sullivan Show." The group's first feature, the Academy Award-nominated "A Hard Day's Night," offered fans their first peek into a day in the life of the Beatles and served to establish the Fab Four on the silver screen, as well as to inspire the music video format. Songs: I'll Cry Instead, A Hard Day's Night, I Should've Known Better, Can't Buy Me Love, If I Fell, And I Love Her, I'm Happy Just to Dance with You, Ringo's Theme (This Boy), Tell Me Why, Don't Bother Me, I Wanna Be Your Man, All My Lovin' and She Loves You.
First of all, tremendous kudos to Miramax for preserving the 1.37:1 fullscreen ratio of this film. Although the extra video information will only be seen by a small percentage of viewers, this commitment to video is rare. Also included are a newly mixed Dolby Digital 5.1 soundtrack, three audio commentaries, a new documentary, half an hour of behind the scenes material, the short film, "Running, Jumping, Standing Still", a scrapbook, and theatrical trailers will be included on the disc.
Priced at $29.99, this seminal version of the film will arriving on September 24th.