It is high tide for High Crimes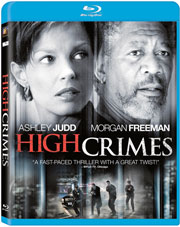 20th Century Fox Home Entertainment has scheduled the thriller High Crimes for release on August 27.
Starring Morgan Freeman and Ashley Judd, "High Crimes" tells the story of Claire Kubik a high-powered attorney whose perfect life comes down when her husband is charged with high crimes of murder. Enlisting the aid of a shrewd military lawyer, Claire will risk her career and even her life to find the truth.
The DVD will include a Commentary Track by director Carl Franklin, as well as an additional Commentary Track featuring Morgan Freeman and Ashley Judd. Seven Featurettes will also be included on the DVD, shedding light on various aspects of the film's production and background. The release is rounded out by Storyboard-To-Screen comparisons and the movie's Theatrical Trailer.
"High Crimes" is making its DVD debut on August 27 and will carry a suggested retail price of $27.98. You can now preorder this exciting thriller at the DVD Review Store for only $19.59 and save $8.00!