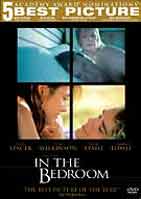 Long after the other Oscar nominees for Best Picture of 2001 have been announced or released, Buena Vista Home Entertainment is only now getting around to announcing the depressing New England drama In the Bedroom.
Frank Folwer is a young man home from college. He develops a special relationship with an older woman and their love blossoms in their small New England town. Natalie is the older woman and has two children from her marriage to an abusive husband. When this abusive ex continues to meddle in this budding relationship, Frank's parents warn him to stay away. Following his heart, Frank stands by his woman, only to pay the consequences for his actions and his family and friends must also learn to deal with the changes in their lives.
Sadly the long delay on this DVD was not to add extra supplements. The excellent movie will be presented with an anamorphic widescreen transfer and audio in Dolby Digital 5.1, but will carry absolutely no features.
Available on August 13th, you can bring the movie into your own bedroom for $19.99.