Tim Allen is Joe Somebody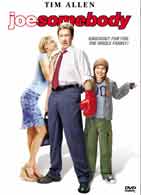 Twentieth Century Fox Home Entertainment is about to release the family film Joe Somebody to DVD this summer.
Joe Scheffer is a mild-mannered father who makes promotional videos for a Minneapolis pharmaceutical company. Since his divorce, Joe has remained lonely and quietly unhappy until the office bully, Mark McKinney, punches him out in the company parking lot in front of Joe's precocious young daughter. After the humiliating experience, Joe sinks into such a deep depression that not even flirtations with the company's cute wellness coordinator can rouse him. When Joe suddenly decides to restore his pride and create his own destiny, he challenges McKinney to a fight and immediately finds himself the most popular man in the office. He changes his image and even hires a washed-up movie action star to teach him martial arts. But as the match with McKinney narrows in, Joe soon finds that he must weigh the allure of his newfound popularity against the love and respect of those who liked him the way he was.
Anamorphic widescreen and Dolby Digital 5.1 enhance the film. An audio commentary with director John Pasquin and producer Brian Reilly will run with the film. Other features include a gag reel, a making of featurette, Scarett's Method featurette, five deleted scenes with optional director commentary and a theatrical trailer.
August 20th is the day the Joe Somebody will make his mark and will carry a suggested retail price of $26.98.