Season 3 for The Sopranos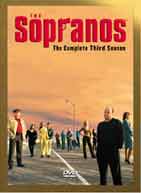 HBO Home Video will continue the release of their most popular series with the upcoming multi-disc set of The Sopranos: The Complete Third Season.
Some suburban households have two cars. Some have two houses. But Tony Soprano has two families. This could be why the FBI is going to such lengths to wiretap his home. Why the son of his dear late friend Jackie Aprile is causing him such agita. Why a Russian housekeeper is searching for her missing leg. Why his son is vandalizing school property and his daughter is getting her heart broken. Why his wife Carmela is both consulting a psychiatrist and confessing to a priest. And it's also why Tony Soprano is still seeing Dr. Melfi for his anxiety attacks. It isn't easy heading-up the mob in New Jersey. But that's what puts dinner on the table for the two families of Tony Soprano.
All thirteen episodes of the third season will be presented in their original aspect ration with anamorphic widescreen transfers and English Dolby Digital 5.1 and Dolby Surround 2.0 tracks as well as French and Spanish Dolby 2.0 tracks. Audio commentaries will be provided for episodes 9, 11 and 12 by Michael Imperioli, Steve Buscemi and David Chase respectively. A new featurette "A Day on the Set of The Sopranos", cast and crew bios, and recaps of seasons one and two as well as previously ons and next ons for each episode.
With a suggested retail price of $99.95, the third season of Sopranos will be on the streets on August 27th.