Resident Evil is on the way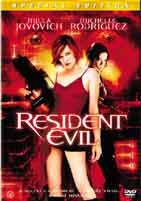 Columbia TriStar Home Entertainment is putting the finishing touches on the DVD for the recent video game turned film Resident Evil. The disc will be out in mid-summer.
A team of paramilitary commandos must battle flesh-eating undead, killer mutant dogs and a supercomputer's deadly defenses before an unleashed virus consumes humanity in this adaptation of the hit video game series.
Presented in anamorphic widescreen with audio available in Dolby Digital 5.1, the disc carries an audio commentary five featurettes, the Slipknot music video "My Plague", filmographies and a theatrical trailer.
Priced at $27.95, the evil will be unleashed on July 30th.