Prepare for the Clash of the Titans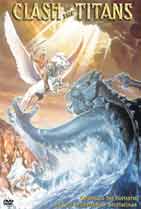 Warner Brothers Home Entertainment is getting ready to revisit one of their classic fantasy adventures Clash of the Titans. A new DVD will be coming to stores this summer.
The classic Greek myth of Perseus and Andromeda re-told with an all-star cast. To win the right to marry his love (Andromeda) and fufill his destiny, Perseus must complete various tasks including taming Pegasus, capturing Medusa, and answering riddles. The result is a timeless adventure that's a treat for kids and adults.
A new anamorphic widescreen transfer has been graced upon this release as have a number of new features including an all new introduction by Ray Harryhausen, map of myths and monsters gallery, a theatrical trailer and cast filmographies.
On August 6th, the battle will rage on again. A $19.99 price tag has been placed on the disc. Order it now from the
DVD Review Store for $13.99.