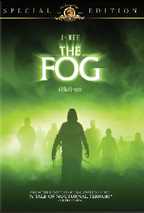 The cult classic horror film The Fog is finally coming to DVD this summer courtesy of the good people at MGM Home Entertainment, after countless re-schedulings over the past three years.
Antonio Bay is about to celebrate its 100th anniversary, but while the townspeople prepare to celebrate, the victims of the town's terrible secret plot revenge. Under cover of fog, they return to exact their vengeance.
In addition to the film presented in its origina anamorphic widescreen with audio in Dolby Digital 5.1, the film will carry
a 28-minute documentary on the making of the film, a making-Of featurette, an audio commentary with director John Carpenter and producer Debra Hill, an outtake reel.
trailers and TV Spots.
Get ready, the fog is coming on August 27th. Preorder your copy at the DVD Review Store now for only $13.97!