Horror Classics from Columbia TriStar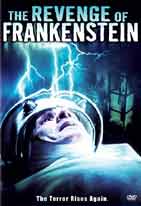 Two defining horror films are on the way from Columbia TriStar Home Entertainment. The Revenge of Frankenstein and The Return of the Vampire are both re-emerging from the crypts this summer.
One of the highlights of the Hammer Film collection, "The Revenge of Frankenstein", like so many Frankenstein films takes great liberties with the original tale and sees Baron Frankenstein being rescued from the guillotine by his devoted dwarf servant Fritz. The Baron relocates to Carlsbrunk, where he becomes a celebrated society physician, Dr. Stein. But under the guise of charity work, the good doctor continues his gruesome experiments, this time planning to transplant Fritz's brain into his latest creation: a normal, healthy body.
"The Revenge of Frankenstein" will contain a newly created anamorphic transfer. The disc will also contain an original theatrical trailer and a photo gallery.
"The Return of the Vampire" unfolds as one of the most bizarre vampire movies of all time. Bela Lugosi returns for one of his final film performances as Armand Tesla, a 200 year old Hungarian vampire who roams the countryside, feeding from the jugulars of the villagers. But Tesla's reign of terror is interrupted when a pair of scientists, Lady Jane and Sir John Ainsley, drive a railroad spike through his heart. The "un-dead" Tesla remains safely entombed for two decades until the impact from a stray Nazi bomb accidentally releases him. Along with his werewolf servant Andreas Orby, the resurrected vampire now plots vengeance on the family that put a halt to his nocturnal feasting.
"The Return of the Vampire" is presented in black and white in its original fullscreen presentation. A theatrical trailer is included on the disc.
On August 13th, both horror staples will arrive on DVD. No retail price has been set.