Final specs are in on The Royal Tenenbaums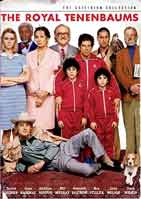 After quite a bit of confusion from Buena Vista Home Entertainment regarding their upcoming comedy The Royal Tenenbaums, the details have finally been cleared up and consumers will get quite a pleasant package this June.
Unlike the Wilson Brother's previous film "Rushmore", "Tenenbaums" will have only one release. The two disc Criterion Collection version will be the single release of the film and will feature an anamorphic widescreen transfer and audio in both Dolby Digital 5.1 and DTS 5.1. An audio commentary with Wes Anderson, a featurette entitled "The Art of the Movie", a production featurette, interviews, behind the scenes footage, deleted scenes, outtakes, an excerpt from "The Peter Bradley Show", portraits and theatrical trailers will be included. A set of drawings will also be included.
The set is still due out on Jul 9th and will have a $29.99 price tag. Pre ordering information is up now at The DVD Review Store where the set can be owned for $20.99