Dreamworks releases Time Machine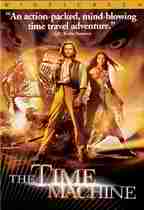 Dreamworks SKG Home Entertainment has announced the upcoming release of the 19th century novel turned film Time Machine. Written by H. G. Wells and directed by his grandson Simon, the DVD is coming this summer.
Scientist and inventor Alexander Hartdegen is determined to prove that time travel is possible. His determination is turned to desperation by a personal tragedy that now drives him to want to change the past. Testing his theories with a time machine of his own invention, Hartdegen is hurtled 800,000 years into the future, where he discovers that mankind has divided into the hunter and the hunted. Arriving in the year 802,701, Hartdegen learns that humankind has evolved into two distinct species: The Eloi, who live above ground, and the Morlocks, fearsome creatures that live in a dark complex of tunnels and caverns beneath the Earth.
First the technical specifications, "Time Machine" comes with an anamorphic transfer and a plethora of audio tracks including Dolby Digital 5.1, Dolby 2.0 Surround, DTS 5.1, French Dolby Digital 5.1, Latin American Spanish Dolby Surround 2.0 and two audio commentaries, the first with director Simon Wells and editor Wayne Wahram and the second with producer David Valdes, production designer Oliver Scholl, and visual effects supervisor James E. Price bringing the total to seven audio tracks. Other features include A behind-the-scenes featurette created especially for the DVD, a specially created animated sequence featuring a selection of Simon Wells' original storyboards set to music. A behind-the-scenes featurette looking at the creation of the film's centerpiece, the time machine. A deleted scene featuring Guy Pearce and Phillip Bosco and an in-depth featurette look at the film's stunning visual effects.
For $26.99, the new DVD will be available on July 23rd or if you have a time machine, you can pick it up today.