Collateral Damage is on the way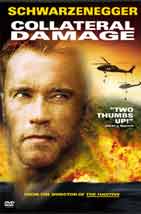 Warner Brothers Home Entertainment is preparing a new DVD for the film they cautiously released to theaters earlier this year. The Schwarzenegger action film Collateral Damage makes its home video debut this summer.
Arnold delivers nail-biting excitement and bold one-man heroics as a Los Angeles fireman who seeks revenge after his wife and son are killed in a terrorist bombing. Schwarzenegger tracks the man responsible from Colombia to Washington, D.C. in a race to stop the terrorist before he strikes again.
The new DVD will carry an anamorphic widescreen transfer and audio in Dolby Digital 5.1 in English and French. The audio is supplemented by an audio commentary with commentaries by director Andrew Davis and star Arnold Schwarzenegger. Other extras include a making of documentary, an interview segment entitled "The Hero In A New Era", deleted scenes, filmographies, a theatrical trailer and DVD ROM content.
Arriving on July 30th, the film will carry a suggested retail price of $26.98. The disc is available for pre-order now at the DVD Review Store for $19.98.