Anchor Bay polishes off Diamonds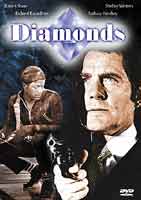 Any true "Shaft" fan has all three original "Shaft" films and maybe the 2000 film as well. Any true "Shaft" fan has taped the "Shaft" made-for-TV movies off of cable and hoped against hope for a future DVD release. And any true "Shaft" fan knows about the "Shaft" film that sort of never was. Now Anchor Bay Home Entertainment has dusted off the old quasi-sequel heist film Diamonds for a new DVD release.
A suave British dealer recruits an American thief and his beautiful girlfriend for a true criminal masterpiece: the robbery of $100 million worth of cut gems from a vault inside an Israeli skyscraper and guarded by a state-of- the-art security system designed by his identical twin brother. But even if they can outsmart the alarms, crack the safe and snag the stones, how are the best thieves in the game going to escape with the world's biggest batch of "Diamonds."
Presented with a new anamorphic widescreen transfer and its original mono soundtrack, "Diamonds" will come with its original theatrical trailer.
Coming on June 11th, "Diamonds" will sparkle in your home for $19.98. You can now order this title from the DVD Review Store for only $13.99!