Warner remembers My Favorite Year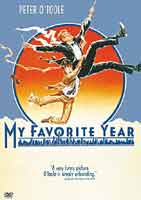 Peter O'Toole, best known for his work with David Lean in the 1960s turns in one of his best performances in the 1982 comedy My Favorite Year. This July, the film will come to DVD twenty years after its theatrical premiere from Warner Brothers Home Entertainment.
A declining, boozy matinee idol (Peter O'Toole) is scheduled to make an appearance (unbeknownst to him) on live television. Comic misadventures occur when a junior scriptwriter must ensure he turns up camera ready–and sober.
An anamorphic widescreen transfer comes on this DVD which also features the vocal talents of star Peter O'Toole and director Richard Benjamin in an audio commentary. Other supplements include a theatrical trailer and Peter O'Toole film highlights.
Coming on July 9th, the DVD will have a suggested retail price of $19.98. You can preorder it now at the DVD Review Store for $13.99.