The final details for the Amelié Special Edition are here!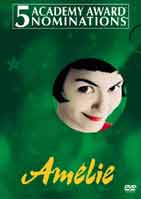 As announced earlier, Buena Vista Home Entertainment will release the Academy-Award nominated French drama Amelié in July, and finally the studios has sent along the final specs for this eagerly awaited DVD release.
"Amelié" is the story of a young Parisian woman who is looking for love, and perhaps for the meaning of life in general. Growing up in a slightly dysfunctional family, Amelié is waiting tables in a tiny Paris cafe and interacting in a curious fashion with her neighbors and customers.
Amelié's life changes when she discovers the immense joy of bringing happiness to others through random, anonymous and secret acts of kindness. Her life goes on until she meets an intriguing young man and must discover if she will find the same happiness for herself.
The DVD will feature an anamorphic widescreen transfer of the movie, complete with its original French language track in 5.1 channel Dolby Digital, which his complemented by English subtitles. A good number of bonus materials will be found on the release, such as the Featurette Amelié Effect, and the Featurette The Look Of Amelié.
The DVD will also contain Fantasies with Audrey Tautou in French with subtitles, and Q&A Sessions with director Jean-Pierre Jeunet as well as the cast, partly in English, partly in French with subtitles. Audition Tapes from various cast members will also be included on the release, together with Storyboard Comparisons and an Interview with director Jean-Pierre Jeunet.Home Movies Inside the Making of Amelié will also be found on the disc, as well as the Music Video A Quai. The release is rounded out by Trailers and TV Spots, Filmographies, Poster Concepts, Storyboards and a Behind-the-Scenes Scrapbook.
"Amelié" will be released on July at a suggested retail price of $29.99. The title is now available for preorder in the DVD Review Store for only $20.99!