Release date set for Star Trek: The Next Generation Season 3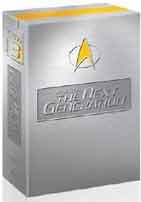 Paramount continues to stay on track with their rapid release schedule on one of their most marketable television series, Star Trek: The Next Generation. A release date has been set for season three to hit shelves in July.
Viewed by fans as the year the series finally came out of the shadow of its predecessor and came into its own, season three features some of the most memorable moments of the series including the return of Tasha Yar and the final mission of the Enterprise-C, the final mission of Ambassador Sarek, and the abduction of Captain Picard by the Borg leading to one of the tensest season finales in television history.
Like previous sets, the discs will come four episodes to a disc with supplements on the seventh disc. All episodes will come fullscreen with audio in their original Dolby Surround and remixed Dolby Digital 5.1. The episodes will be presented as follows :
Disc 1: Evolution, The Ensigns Of Command, The Survivors and Who Watches The Watchers
Disc 2: The Bonding, Booby Trap, The Enemy and The Price
Disc 3: The Vengeance Factor, The Defector, The Hunted and The High Ground
Disc 4: Deja Q, A Matter Of Perspective, Yesterday's Enterprise and The Offspring
Disc 5: Sins Of The Father, Allegiance, Captain's Holiday and Tin Man
Disc 6: Hollow Pursuits, The Most Toys, Sarek and Ménage à Troi
Disc 7: Transfigurations, The Best Of Both Worlds, Part I and Special Features.
The special features have not yet been announced, but should follow suit from the earlier sets.
Coming on July 2nd, the set will make a nice addition to the Star Trek DVD collection. It carries a suggested retail price of $139.99, but you can preorder your copy of this box set now at the DVD Review Store for only $97.99 and save a whopping $42!