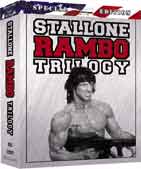 Artisan Home Entertainment is giving the nigh-invulnerable John Rambo the hero's treatment with a new four disc Rambo Trilogy special edition. Each disc will present its respective film with high quality and an abundance of features.
He never fought a battle he couldn't win ­ except the conflict raging in his own soul. John Rambo is an ex-Green Beret haunted by memories of Vietnam, who was once the perfect killing machine. Throughout three films he searches for peace, but finds only more battle as the one man army must escape imprisonment, save POWs and ravel to Afghanistan to rescue an old friend.
Each disc presents some pleasant features. "First Blood" features the film with an anamorphic widescreen and a fullscreen transfer with audio options in Dolby Surround 2.0 Dolby Digital 5.1 and DTS 5.1. An additional audio track will be dedicated to an audio commentary with writer David Morrell. Other features include a new documentary "Drawing First Blood: Creating John Rambo", production notes, cast and crew info, a theatrical trailer and teaser.
"Rambo: First Blood Part II" will feature the same video and audio options as the first film and will be accompanied by an audio commentary from director George Cosmatos. A new documentary "We Get to Win This Time: The Rambo Phenomenon", production notes, cast and crew info and a theatrical trailer round out the features on this disc.
Finally, "Rambo III" will contain the multiple video and audio blessings as the first two films and will additionally house an audio commentary with director Peter MacDonald, the aptly titled documentary "Afghanistan: Land in Crisis", production notes, cast and crew info and a theatrical trailer.
The forth bonus disc will contain extras on all three films including seven featurettes entitled "First Blood: A Look Back", "Rambo: Full Circle", "Those That Wanted More", "The Forging of Heroes: America¹s Green Berets", "Rambo-Nomics", "Suiting Up" Rambo Survival Hardware and "Selling A Hero". Three longer documentaries are also included; "An American Hero¹s Journey", "The Real Nam: Voices From Within" and "Guts and Glory". one final feature will be a Rambo trivia game..
If all that isn't enough Rambo for you, then I don't know what is. The entire set will invade homes on May 28th and will carry a suggested retail price of $59.98, but you can save twelve dollars by picking it up at the DVD Review Store. The first three discs of the set will also be available separately for $19.98 each.