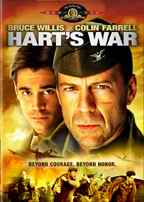 MGM Home Entertainment is preparing the DVD debut for their recent World-War II drama Hart's War this July, starring Bruce willis in a stirring performance.
At the end of World War II, the murder of an American soldier in a POW camp brings rise to a court-martial. But the legal exercise is more than an upkeeping of protocol. It is a cover for escape.
"Hart's War" will make is DVD debut on a disc that contains an anamorphic widescreen and a fullscreen transfer of the movie, complete with a Dolby Digital 5.1 audio track. The release will contain two separate audio commentaries. The first will will ring with the voices of the movie's star Bruce Willis, director Gregory Hoblit, and writer Billy Ray while the second one will feature producer David Foster. Other features include a selection of Deleted Footage with optional Director's commentary, a Photo Gallery, Production Notes and the film's Theatrical Trailer.
Priced at $26.95, you can pick up the film on July 9th.