Hammer Horror fans get another serving from Warner Home Video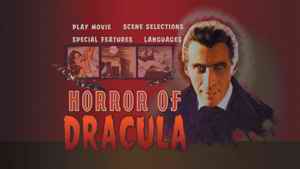 Hammer Horror fans will certainly be excited to learn that Warner Home Video has finally scheduled additional releases of these cult classics for release on DVD.
Terence Fisher's 1958 masterpiece Horror Of Dracula, the film that spawned the entire Hammer Dracula series of films, has been slated for release later this year. It established Christopher Lee as the seminal Dracula actor of the time and became an instant fan favorite through its atmospheric, gothic cinematography, glorious music, superb dramaturgy and of course the horrors….
After Jonathan Harker attacks Dracula at his castle, the vampire travels to a nearby city, where he preys on the family of Harker's fiancée. The only one who may be able to protect them is Dr. van Helsing, Harker's friend and fellow-student of vampires, who is determined to destroy Dracula, whatever the cost.
Also finally arriving on DVD is The Curse Of Frankenstein, Terence Fisher's 1957 inspired but loose Frankenstein adaptation, which was a milestone in Hammer Studios' career. It lead to the licensing of the Universal monster characters for exploration in various movies. The rest is history, as they say…
"The Curse Of Frankenstein " is the retelling of the classic tale of Frankenstein. In this version, Baron Victor Frankenstein becomes friends with one of his teachers, Paul Krempe. At first, both men are fascinated by the potential of their experiments. Together, they manage to bring a dog back to life. Eventually Krempe refuses to help with Frankenstien's human experiments. But he is drawn into the plot when Frankenstein's creature kills a member of the house staff.
No details or specific release date have been announced for these titles, but we will keep you up to date on these exciting and eagerly awaited titles as soon as more information comes in. Until then, enjoy the menu screen for "The Horror Of Dracula" that we have been able to obtain for you!