Fox cooks up some Kung Pow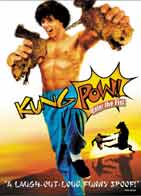 Twentieth Century Fox Home Entertainment is readying to turn the martial arts genre on its ear with the satirical mixture of film both new and old in the action comedy Kung Pow: Enter the Fist due on DVD this summer.
The Chosen One, a kung fu master since he was an infant, sets out to avenge his parents' death, slaughtered by the kung fu legend, Master Pain. For unknown reasons, Master Pain is known as Betty, who is protected by a vaguely defined outfit called the Evil Council, which apparently holes itself up in an array of floating pyramids. The Chosen One was raised by rodents and inexplicably grows up to be a white man whose tongue has a life of its own, its tip has eyes and a mouth, which has its own tongue. Along the way to avenge his parents death, The Chosen One encounters strange characters, one of which is a karate-kicking cow.
The disc will be presented in anamorphic widescreen and Dolby Digital 5.1 sound accompanied by both a director's commentary and two alternate dialog tracks. Twelve deleted scenes, six alternate scenes, foreign language clips, a visual effects reel, a making of featurette, photo gallery and a theatrical trailer will add to the disc.
Save up your kung-fu spending pennies, Kung Pow will hit shelves on July 23rd with a suggested retail price of 26.98.