Details arrive on Memento Special Edition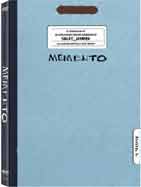 The anticipated details have arrived on the upcoming two-disc special edition of Columbia TriStar's independent thriller Memento. The new disc promises to be just a perplexing as the film itself with a series of mental puzzles placed throughout the navigation of the disc itself.
Disc one contains the film with an anamorphic widescreen transfer and audio in DTS 5.1 and Dolby Surround 2.0 An extensively detailed audio commentary by director Christopher Nolan has been provided to lead the viewer through the subtleties and complexities of the film. The second disc contains the 23 minute documentary "Anatomy of a Scene", the original short story Memento Mori by Jonathan Nolan on which the film is based, and a director's script which utilizes the multi-angle feature of your DVD player to dissect the film in detail. Perhaps the most intriguing and confusing aspect of the DVD is the promise that the film and DVD navigation will be strewn with puzzles which must be solved to proceed. According to director Nolan, "I've enjoyed flexing my creative muscles to come up with something completely new and unique to the DVD format. I hope fans of Memento will enjoy not only the film, but also the extra features and challenges that the DVD offers." The film itself and the menu screens will be guarded by riddles who's clues lie in the film itself, throughout the special features, and even on the elaborate packaging created for the film. Certainly a unique approach to DVD.
Still scheduled to be released on May 21st, the disc will carry a suggested retail price of $27.95. The price at the DVD Review Store is only $18.17