Columbia TriStar reveals The Mothman Prophesies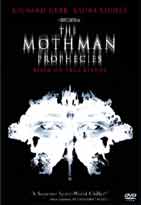 Supposedly based on true events, the new psychological thriller The Mothman Prophesies is being prepared by Columbia TriStar Home Entertainment for a DVD release this June.
Distraught by the sudden, tragic death of his wife (Debra Messing), John Klein (Richard Gere), a journalist for The Washington Post, finds himself mysteriously drawn to a small West Virginia town when his car inexplicably strands him. Rescued by the sympathetic but skeptical local police sergeant (Laura Linney), he soon learns that many of the town's residents have been beset by bizarre events, including sightings of an eerie "moth-like" entity, similar to the one seen by his late wife.
An anamorphic widescreen transfer and audio in Dolby Digital 5.1 are welcome as always, but the DVD features very little in the way of extras. A theatrical trailer and "Hot Light" music video are the only additions to the disc.
Coming on June 4th, the thrills come home with a suggested retail price of $27.96, or you can pick it up at the DVD Review Store for $18.17.