Columbia TriStar releases a somewhat mutilated Perfect in June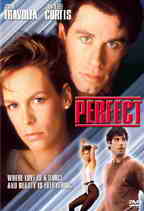 Columbia TriStar Home Entertainment has scheduled the release of the Jamie Lee Curtis and John Travolta romantic comedy Perfect this summer.
John Travolta is a writer for Rolling Stone; Jamie Lee Curtis is a beautiful aerobics instructor. When he investigates health clubs as the singles bars of the '80s, sparks fly and a sizzling romance heats up. Marilu Henner, Laraine Newman and Jann Wenner are also featured in "Perfect." Director James Bridges goes behind the scenes at a high-powered magazine where nothing stands in the way of a story, even someone's life. He explores a world where love is a dance played to a pulsing beat and the attainment of physical beauty is everything. A hit-filled musical score by Jermaine Jackson and other top artists plus dynamic aerobics sequences are among the film's many pleasures.
The DVD version of "Perfect" will come in a Fullscreen Presentation only, in what is expected to be an open-matte transfer. Columbia TriStar Home Entertainment's approach to releasing many of their catalog titles in fullscreen only these days is quite disconcerting and it remains questionable why the studio won't include an anamorphic widescreen version as well, the way they did in the past. The audio presentation comes as a Dolby Surround track with a variety of subtitles. The only extra on the disc will be the movie's Theatrical Trailer.
One can't help but wonder what drives Columbia TriStar Home Entertainment to this fullscreen-only approach but we are hopeful that before long these policy will be revised. Until then, these no-frills, no-class releases are a bit dubious and despite its name, this release is hardly perfect.
"Perfect" will come to DVD on June 26 at a suggested retail price of $24.95. You can order your copy now from our own DVD Review Store for only $16.22!