Columbia TriStar presents Mo' Money, less width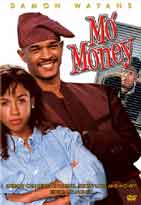 Columbia TriStar Home Entertainment has announced the upcoming DVD release for the early nineties comedy Mo' Money, but the announcement is a mixed blessing for DVD enthusiasts.
Chicago street hustler Johnny Stewart (Damon Wayans) falls in love with a beautiful business executive, Amber Evans (Stacy Dash), stumbles onto a major credit card scam in her company, and foils the bad guys in this comic action/adventure.
Although many people may be waiting for this film, many will be disappointed to see Columbia's further decline in DVD commitment. The disc will come fullscreen only with audio in Dolby 2.0 and no extra features, making the disc essentially no different from a VHS other than longevity.
Despite these issues, the disc will hit shelves on June 18th with a suggested retail price of $24.95. The DVD Review Store lists the disc at $16.22