A slew of comedies are coming from Columbia TriStar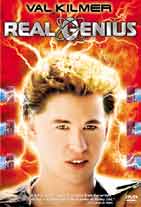 Columbia TriStar Home Entertainment has a batch of library title comedies finally ready to make their digital debut. The Neil Simon play-turned-film Lost in Yonkers, the conclusion to the talking-baby trilogy Look Who's Talking Now and the cult classic peek into the early days of Val Kilmer in Real Genius. All three are set to make their debut in June.
In "Lost in Yonkers" two brothers are sent to live with their domineering grandmother after their mother's death. Surrounded by their eccentric family, the young boys learn to cope with their loss. Academy Award winners Richard Dreyfuss and Mercedes Ruehl star in this delightful Neil Simon comedy about an eccentric New York family whose crimes, dreams, and memories collide one fateful summer.
Now that the kids finally know how to talk in "Look Who's Talking Now", the family is going to the dogs. Their parents fun-loving marriage is put to the test when she loses her job and he finds one… with a lady boss who shows an overactive interest in merging.
Finally, in the textbook example of eighties teen farce, "Real Genius" follows the adventures of whiz-kids brought together to form a think tank to create among other things, a superpowerful laser. But when they learn the devious plans behind their being brought together, the plot revenge on the government trying to develop a super-weapon and show the world not to mess with genius.
Sadly, Columbia TriStar's usual commitment to quality seems to be missing from these titles. Although "Real Genius" is presented in both anamorphic widescreen and fullscreen, "Lost in Yonkers" is widescreen only and "Look Who's Talking Now" is presented only in pan and scan. All three come with their original Dolby Surround audio, but have no supplements save for theatrical trailers.
Coming June 11th, all three comedies will be priced at $24.95. Order the disc now at the DVD Review Store and save!