1776 comes to DVD as a director's cut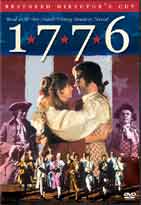 Columbia TriStar Home Entertainment is about to release a new extended version of the 1972 historical musical 1776. The extra footage will bring the film to a running time of 166 minutes.
A musical celebration of the founding of the United States based on the award-winning Broadway production, the new cut of the film restores twenty-five minutes of footage including the song "Cool, Considerate Men".
Despite the new footage, the disc is anything but revolutionary, if you'll excuse the pun. The film is presented with a new anamorphic widescreen transfer and Dolby Digital soundtrack, the disc contains an audio commentary ported from the laserdisc, but none of the other features from the LD including the isolated score or the remaining fourteen minutes of deleted scenes.
Coming appropriately on the second of July, the film will have a suggested retail price of $29.95, but you can pick it up from the DVD Review Store for $19.47.