Sex and the City goes for season three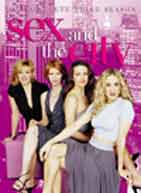 HBO Home Video has been very faithful in keeping all of its current popular series up to date on DVD. The latest set is the complete third season of the N.Y. based award winning series Sex and the City. Like the previous two sets, the season will come complete, and this time with a few supplements.
Join Carrie and her friends Charlotte, Miranda and Samantha as they do weddings, funerals and Bat Mitzvahs, Staten Island, the meat-packing district and the Playboy Mansion. "A-List" celebrity guest appearances include Carrie Fisher, Sarah Michelle Gellar, Hugh Hefner, Donovan Leitch, Matthew McConaughey, Alanis Morissette and Vince Vaughn. So get ready to cross the velvet ropes and enter a third season of… Sex and the City.
All eighteen of the season three episodes, which aired in the summer and fall of 2000, will be included with their original fullscreen ratios. Four episodes will feature audio commentaries by executive producer Michael Patrick King as well as cast and crew biographies.
Coming on May 21st, the girls will be coming home for $49.99. You can now preorder this DVD set for only $39.99 at Shop In Digital