Oliver & Company makes its debut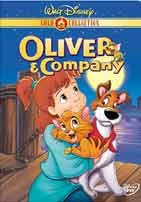 The arrival of Walt Disney's 27th animated feature Oliver & Company on DVD has been as fickle as its feline namesake. Originally announced with the initial batch of Disney DVDs, the film has been added and removed from the release schedule many times. It looks like Buena Vista Home Entertainment is finally prepared to release the film this May.
Based on the Charles Dickens novel Oliver Twist, Oliver, an adorable orphaned kitten, is befriended by Dodger, a carefree mutt with a certain New York City street savoir faire. The little cat is welcomed into Dodger's pack of pickpocket pooches.
No details at all are available concerning aspect ratio, sound or supplements although the packaging suggests that Disney is resurrecting the Gold Collection of Disney DVDs which has not seen a release in close to a year.
On May 14th, "Oliver & Company" will strut its stuff with a suggested retail price of $29.99. You can preorder it now at Shop in Digital for $20.99