New Line sends I Am Sam your way in June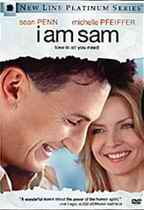 New Line Home Entertainment has unveiled details about the release of the crictically acclaimed drama I Am Sam as a Platinum Edition DVD in June.
Raising a child is never easy, and like everybody else, Sam Dawson (Sean Penn) has learned to adapt. But when Lucy (Dakota Fanning) turns seven, social workers step in. Sam is mentally-challenged, and it will be up to the courts to evaluate his ability to continue to raise Lucy. Sam, encouraged by his friends, seeks a lawyer to represent him. Rita Harrison (Michelle Pfeiffer) initially resists taking on such a long-shot case, but ultimately takes the challenge in order to prove to her co-workers that she will work a pro bono case. Together, Sam and Rita struggle to convince the system that Sam deserves to get his daughter back and, in the process, fuse a bond that results in a unique testament to the power of unconditional love.
The Platinum Series of "I Am Sam" will be presented in its original widescreen aspect ratio and feature audio tracks in 5.1 channel Dolby Digital and DTS. The release includes a Commentary Track by director and co-screenwriter Jessie Nelson, as well as a selection of Deleted and Alternate Scenes with optional director commentary. The movie's Theatrical Trailer and the Theatrical Press Kit will also be included on the release. "Becoming Sam" is the name of an original Documentary on the disc, which looks at the genesis of the project, from the inspiration, casting and creation of the characters through filming and creation of the soundtrack. Further, a Script-to-Screenfeature and other DVD-ROM content will be found on the DVD.
"I Am Sam" is scheduled for release on June 18 and will carry a suggested retail price of $24.98