Here come the Men in Black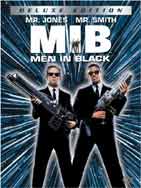 That's right, in order to promote the upcoming sequel to the 1997 sci-fi comedy hit, Columbia TriStar Home Entertainment is about to release their forth release of Men in Black this spring.
Men in Black follows the exploits of agents Kay (Tommy Lee Jones) and Jay (Will Smith), members of a top-secret organization established to monitor alien activity on Earth. The two MiB find themselves in the middle of the deadly plot by an intergalactic terrorist (Vincent D'Onofrio) who has arrived on Earth to assassinate two ambassadors from opposing galaxies.
The new set comes with audio in Dolby Digital 5.1 and an anamorphic widescreen and a fullscreen video presentation. The film also contains an audio commentary and a video commentary. The features remain similar to the previous release, but are aimed more towards promotion of the upcoming sequel. A MIB II teaser trailer and a Sneak Peek at MIB II are the top listed features. Also included are extended and alternate scenes, the MIB music video, storyboard comparisons, theatrical trailers, a MIB documentary, a scene editing workshop, a conceptual art gallery and DVD-ROM content.
Coming on May 21st with a $24.95 retail price, "Men in Black" is available for pre-order at Shop in Digital for $16.22.