From Hell is coming to DVD in May as a Limited Director's Edition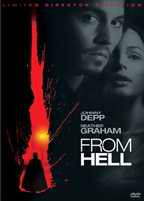 Eagerly anticipated, 20th Century Fox Home Entertainment is currently putting the final touches to the DVD Special Edition release of From Hell, which will hit the streets in May.
"From Hell" is one of the most atmospheric and stylish thrillers produced in a long time, taking you back to the foggy streets of Victorian England where the deep shadows of the gaslights hide many a dark secrets. Johnny Depp plays a clairvoyant police detective must stop the most notorious serial killer in history – Jack the Ripper – before it's too late!
20th Century Fox Home Entertainment will release "From Hell" in its original 2.35:1 widescreen aspect ratio in a transfer that is enhanced for 16×9 TV sets. The disc will feature English audio tracks in DTS, Dolby Digital 5.1 as well as French and Spanish language tracks in Dolby Surround.
Available for only a limited time, the DVD will come as a 2-disc set, featuring a Commentary Track by the directors Albert and Allen Hughes, which is quite surprising given their previous comments that they did not plan to do a commentary track for the movie just yet. A selection of 22 Deleted Scenes will also be found on the release, complete with optional commentary, as well as an Alternate Ending, also with option commentary.
The release will also contain 4 Featurettes, including the HBO Special "A View From Hell." Also part of the release is an Interactive Documentary entitled "Jack The Ripper: 6 Degrees Of Separation", and a segment that takes you Behind The Scenes With The Hughes Brothers. An Image Gallery, Storyboard Comparisons and a Mini-Documentary that will give you a tour of London's Whitechapel district will round out this great release!
"From Hell: Limited Director's Edition" will carry a suggested retail price of $29.99 when it will be released on May 27, but you can now preorder this hot 2-disc DVD set from Shop In Digital for only $20.99! Since this is a release that will be available for a limited time only, make sure to put in your order before the set disappears!