Columbia TriStar brings us a Superbit version of The Patriot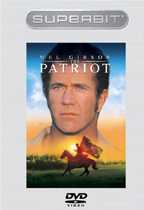 Columbia TriStar Home Entertainment has just unveiled another "Superbit" release. Roland Emmerich's period film The Patriot will make its "Superbit" debut in May as the line's first 2-disc release.
When widower and war hero Benjamin Martin sees his family viciously attacked by Red Coats, he can no longer avoid fighting in the Revolutionary War. Together with his son he forms a militia to take up arms against the British and soon is embroiled in the redemption of revenge and the passion of love.
The DVD will feature an anamorphic widescreen presentation of the movie, complemented with 5.1 channel Dolby Digital and DTS audio tracks in English, as well as the usual assortment of subtitles. As a result of the movie's considerable length of 165 minutes, it will be presented on two separate discs top ensure maximum presentation quality without having to squeeze it onto a single DVD. Like all other "Superbit" releases, "The Patriot" will not feature any extras.
Get ready to see Mel Gibson battle it out in all of the film's splendorous glory on May 28, when this DVD will hit the stores wit ha suggested retail price of $27.98. You can now preorder this 2-disc set for the ultra-low price of $18.17 at Shop In Digital.