Touchstone consults a Holy Man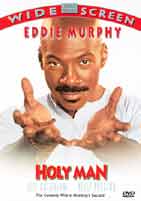 The volcano of talent that Eddie Murphy possesses was largely dormant in the nineties, but it began to roar to life again in the last few years with a string of successful comedies including the bizarre satire Holy Man. Touchstone Home Entertainment is bringing the laughs home on DVD this April.
A stressed-out senior executive at the Good Buy home shopping channel, Ricky Hayman is praying for a miracle that will lift the network's lousy ratings and save his job. Then, from out of nowhere, "G" walks into his life! An outrageous, self-styled inspirational guru with a knack for showing up where he isn't exactly wanted, "G" proceeds to wander in front of the cameras just long enough to exude the irresistible star quality that will make him the sales-boosting savior Ricky's network has been looking for.
Although no features have been announced for the upcoming title, the comedy will come with a widescreen transfer and Dolby Digital 5.1 surround sound.
With a suggested retail price of $19.99, "Holy Man" is coming on April 2nd.