There can be only one… Highlander comes in April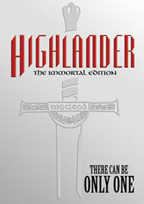 Like so many of you, we feel that it has long been time to replace the poor quality DVD release of Highlander that has been around for years now from Republic Pictures. As we pointed out on numerous occasions, Anchor Bay Entertainment has gained the exclusive rights to this film and finally, in April they will release their take on the "Highlander" saga – in two separate incarnations.
This is where the epic of the immortals begins, a legend that spans centuries with a power that transcends life itself. Christopher Lambert and Sean Connery star in this classic film directed by Russell Mulcahy that defied convention to become a paragon of modern action fantasy and has launched legions of loyal warrior fans worldwide. This is "highlander!"
The DVDs will feature a brand new THX-certified widescreen transfer that is 16×9 enhanced. Further, the disc will contain newly remixed audio tracks, such as Dolby Digital EX and a 6.1 channel DTS ES track, complemented by Dolby Surround tracks in English and French.
The first version will be a movie-only version, featuring only a Commentary Track with director Russell Mulcahy and the film's producers Peter S. Davis and William N. Panzer, as well as Trailers and Biographies to round out the release.
The second version that Anchor Bay will release is entitled The Immortal Edition, a limited edition that will contain a bonus CD. Apart from the features of the standard edition, this version will also include the "Queen" Music Videos for "Who Wants To Live Forever," "A Kind Of Magic" and "Princes Of The Universe." A "Queen" Photo Gallery will also be included, as well as an Artwork and Image Gallery from the movie itself. The bonus CD is a "Queen Companion CD", featuring the songs "Princes Of The Universe," an extended version of "One Year Of Love" and "Friends Will Be Friends." To complete this release, Anchor Bay will also include a 16-page booklet with information on the movie.
"Highlander" will finally hit retail shelves on April 16. The standard version will carry a low suggested retail price of only $14.98, while "The Immortal Edition" will come in a collectible tin case and carry a suggested retail price of $39.98. Thanks to Shop In Digital, you can now preorder this spectacular collectible edition for only $27.98, so make sure to preorder before they run out of stock!