That silly old Winnie the Pooh hits DVD this spring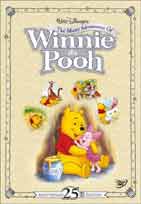 Mickey Mouse and Donald Duck will be loved by children for generations, but Winnie the Pooh has struck a particular chord with the younger set in recent years. Buena Vista Home Entertainment has responded in kind with several Pooh related DVDs, but now is ready to release the original motion picture. The Many Adventures of Winnie the Pooh will join the Disney DVD library in May, just in time for its 25th Anniversary.
A collection of animated shorts based on the stories and characters by A. A. Milne, the film is actually a collection of the first three Winnie the Pooh Shorts, "Winnie the Pooh and the Honey Tree", " Winnie the Pooh and the Blustery Day " and " Winnie the Pooh and Tigger Too!".
Pooh will be presented in fullscreen with a newly mixed Dolby Digital 5.1 surround track. The disc will also come with a collection of supplements including a Carly Simon music video of the theme song,
Music video of the theme song sung by Carly Simon, "A Day for Eeyore" featurette, behind-the-scenes footage, a game, a Sing-Along song and a Winnie the Pooh scrapbook.
Get ready, the 25th Anniversary edition of "The Many Adventures of Winnie the Pooh" will be available on May 7th, 2002 at a suggested retail price of $29.99. You can now preorder this disc at Shop In Digital for only $20.99.