Shiri makes its DVD debut thanks to Columbia TriStar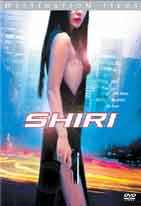 Columbia TriStar Home Entertainment is just about ready to release the Korean thriller that broke all the box office records in its homeland. Shiri will be coming this April.
A phantom sniper methodically assassinates key figures in a South Korean intelligence investigation. Special agent Ryu and his partner Lee suspect North Korea's most lethal female operative Hee. When a security breach prompts the theft of high-tech liquid explosive CTX from South Korean authorities, Ryu and Lee are certain there's a mole within their ranks.
The film will be given an anamorphic widescreen transfer and a new Dolby Digital 5.1 English soundtrack as well as its original Dolby Surround Korean audio. A documentary: The Making of "Shiri", the music video When I Dream and theatrical trailers will be included.
"Shiri" will be available on April 9th and carry a suggested retail price of $24.95.