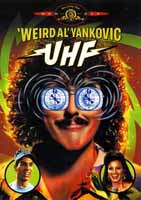 MGM Home Entertainment has made my day with the announcement of the cult classic comedy UHF. The truly bizarre satire comes with a healthy level of involvement with the film's writer and star "Weird Al" Yankovic this June.
George Newman's hyperactive imagination has kept him from holding any gainful employment for more than a few weeks. His luck begins to turn around when his uncle reluctantly puts him in charge of a defunct UHF station won in a good poker hand. Replacing the endless reruns with fresh programming has a slow start until janitor Stanley Spadowski becomes the hottest thing on the network, and on all T.V. Poking fun at every film from "Network" to "Rambo", "UHF" is refined insanity.
Despite the cult status of the comedy, it has lived in relative obscurity which is why the amount of supplements is a pleasant surprise to fans of the film. Coming with both anamorphic widescreen and fullscreen transfers, the film will feature audio in English, French and Spanish. "Weird Al" and Jay Levey will lend their vocals to a new audio commentary with special surprise guests. Also included will be deleted scenes hosted by Al, a photo gallery, a behind the scenes documentary, a theatrical teaser and trailer and the "UHF" music video.
If you've ever wondered how to teach poodles how to fly, where to get a thirteenth spatula for just one penny or what prizes you can win on the Wheel of Fish, pick up "UHF" on DVD this June 4th.