Harry Potter is coming to DVD in May!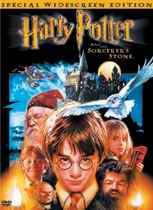 This morning, during an online press event, Warner Home Video and producer David Heyman announced the home video release of Harry Potter And The Sorcerer Stone. As you certainly know, "Harry Potter And The Sorcerer Stone" has been the most successful film of last year, bringing in $320 million at the box office.
In this enchanting film adaptation of J.K. Rowling's delightful bestseller, Harry Potter learns on his 11th birthday that he is the orphaned son of two powerful wizards and posseses magical powers of his own. At Hogwarts School of Witchcraft and Wizardry, Harry embarks on the adventure of a lifetime. He learns the high-flying sport Quidditch and plays a thrilling game with living chess pieces on his way to face a Dark Wizard bent on destroying him. For the most extraordinary adventure, see you on Platform 9 3/4!
Warner Home Video will release the movie in two separate DVD versions. One of them in the film's original 2.35:1 widescreen aspect ratio and the second one in a fullscreen presentation. The disc will contain a 5.1channel Dolby Digital audio track as well as English and French subtitles.
The second disc of the set will filled with a load of extraordinary bonus materials, such as extra scenes that were never before seen. a 360 degree self-guided tour of Hogwarts will be found here, including the Gryffindor Common Room, the Great Hall, Harry's room, and Hagrid's Hut. Of course interviews with director Chris Columbus and producer David Heyman are also part of the release, as well as a number of exciting Harry Potter games, such as "Catch A Snitch, " "Meet The Ghosts," "Cast A Spell" or "Have A Wand." Then learn how to play Quidditch with an original Quidditch montage featuring Oliver Wood and Harry, or create potions correctly or wind up in the infirmary. The disc will also contain interactive features, such as "Sneak Past Fluffy" and other challenges to reveal the secret in the mirror of Erised, or Transfigure Objects, open a screaming book, enjoy video highlights of students and professors, and much more.
The DVD will also contain a number of DVD-ROM features, such as "Be Sorted By The Sorting Hat," or a segment on the "Wizard" trading card game. You will also be able to download flying owls in the Great Hall or get Harry Potter screensavers here, and your own Harry Potter email address and much more.
Like the movie, this DVD release is predestined to become a huge success. Accompanied by a massive advertising campaign, "Harry Potter And The Sorcerer Stone" will be released on May 28 at a suggested retail price of $26.98, so be prepared for your trip to Hogwarts!
You can now preorder "Harry Potter and the Sorcerer Stone" for only $18.95 at Shop In Digital!