Friends details announced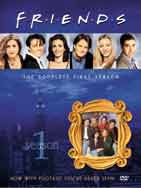 As announced last month, Warner Brothers Home Entertainment has heard the fans of Friends and has announced the release of the entire first season as a four disc DVD box set. More complete information has come in on the set which looks to be quite complete.
The set will contain all twenty four episodes of the first season in their original fullscreen presentations as special extended cuts with previously unseen footage and audio remixed in Dolby Digital 5.0. In addition to the episodes, the set will include an audio commentary on the pilot episode with executive producers Kevin S. Bright, Marta Kauffman and David Crane, the featurettes A Peek At Central Perk and Friends Of Friends, the How Well Do You Know Your Friends? video trivia challenge, The One With The Trailer Of Season 2 trailer and cast profiles.
Coming on April 30th, the complete first season will arrive with a suggested retail price of $69.98. You can now preorder this box set at Shop In Digital for only $55.98!