Fox arms the Black Knight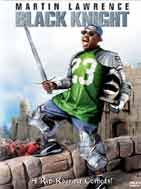 Twentieth Century Fox Home Entertainment is readying a new DVD for Martin Lawrence's take on Mark Twain in Black Knight.
Martin Lawrence is back..way back. When a Medieval World theme park worker is magically transported back to 14th century England, he must do battle with an evil king, deadly assassins – and really bad plumbing!
"Black Knight" comes with an anamorphic widescreen and audio in Dolby Digital 5.1 English and Dolby Surround Latin Spanish and French tracks.
Director Gil Junger provides an audio commentary on one audio track, while star Martin Lawrence puts voice to a second commentary. Additional features include outtakes, stunt scenes and a choreography featurette with Paula Abdul.
Coming to disc on April 16th, "Black Knight" will have a suggested retail price of $26.98.