Final specs are in on Jerry Maguire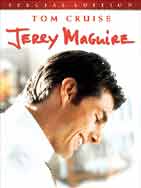 As announced earlier, Columbia TriStar Home Entertainment is once again revisiting one of their early DVD releases as a new special edition. This time its Jerry Maguire receiving a facelift. The new DVD is now scheduled for release in April and has a plethora of bonus material.
Tom Cruise gives one of his best performances as a sports agent who suddenly discovers his scruples – and promptly loses his job. But with the help of one loyal colleague and one outrageous client, Jerry Maguire learns that loving well is the best revenge.
Coming as a two disc set, "Jerry Maguire" will finally get an anamorphic widescreen transfer and will feature a Dolby Digital 5.1 soundtrack. A packed audio commentary will shed light on the film with director Cameron Crowe, and actors Renee Zellweger, Cuba Gooding Jr. and Tom Cruise. Disc two contains a video commentary with the same group from the audio commentary. Deleted scenes and rehersal footage come with optional commentary. A making of featurette as well as the "My First Commercial" and "Drew Rosenhaus: Sports Agent" clips are included as is a music video, theatrical trailers, production notes and filmographies are included.
An impressive set, "Jerry Maguire: Special Edition" comes to DVD on April 30th and will have a cost of $29.95. You can now preorder this title at Shop In Digital for only $18.17!