Anchor Bay releases The Watcher In The Woods in April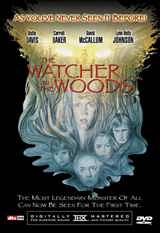 Anchor Bay Entertainment is currently busy putting the final touches to their upcoming release of The Watcher In The Woods, which will be released in April.
Mirrors without reflections – Circles of light – Triangles etched in glass. These are the clues like threads weaving a pattern of a 30-year-old mystery that wraps the viewer in a cloth of enigma that is The Watcher in the Woods.
When an American family rents a house from Mrs. Aylwood (Bette Davis), a series of unexplainable phenomena grab hold of sisters, Jan (Lynn-Holly Johnson) and Ellie (Kyle Richards). Together with Mrs. Aylwood, they will unravel the mystery – Experience the suspense – And witness the terrifyingly powerful presence that is "The Watcher In The Woods."
This exciting new DVD will feature a brand new THX-certified 16×9 enhanced widescreen transfer of the movie complete with newly remixed Dolby Digital EX and DTS ES audio tracks. The DVD will also contain a commentary track by director John Hough as well as two alternate endings which have never before been seen and will finally – for the very first time – reveal the legendary "Watcher" monster itself!
You will also find a 20-page booklet with interviews, artwork and photos in the release, as well as a biography of the director, the movie's trailers and TV Spots.
"The Watcher In The Woods" is scheduled for release on April 2 and will carry a low $19.98 suggested retail price. You can now pre-order this DVD at Shop In Digital for only $13.99!