The Replacement Killers get replaced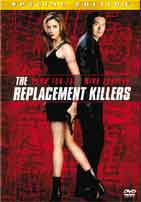 Despite a fairly decent DVD release, the Chow Yun Fat action thriller
The Replacement Killers is getting revisited by Columbia
TriStar Home Entertainment as a new special edition.
After he betrays Mr. Wei, the ruthless crime boss who hired him to
avenge his son's death, professional killer John Lee (Chow Yun Fat) goes on the
run. Enlisting the aid of beautiful document forger Meg Coburn
(Mira Sorvino), Lee attempts to return to his family in China before they are
victimized by his betrayal. But Wei's army of "replacement killers" is
hot on his trail, and now both he and Meg are targets of their
impressive firepower. With both sides fully armed and determined to
fight to the death, an ultra-violent shoot-out breaks out when they
finally face off against each other.
Anamorphic widescreen video and Dolby Digital 5.1 audio
are the features for the new DVD. In addition to the film proper, the
DVD contains and audio commentary by director Antoine
Fuqua the HBO featurette "Where the Action Is", an
exclusive featurette "Chow Yun Fat Goes to Hollywood", a
theatrical trailer, deleted scenes and the alternate
ending.
Coming March 5th, the new edition of "The Replacement Killers" comes
with a price of $29.95.