Oz joins the DVD collection from HBO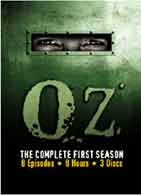 Some of the most groundbreaking television in recent years has come from HBO and the network has been more than accommodating with making the transition to DVD. Season box sets of "The Sopranos", "Sex and the City" and "The Larry Sanders Show" have all been exceptional releases. Now the harshly realistic prison series Oz is about to join their ranks as the first season makes its way to DVD.
OZ is set deep inside the Oswald Maximum Security Prison, in an experimental unit known as Emerald City. Em City focuses on prisoner rehabilitation over public retribution. There's one set of rules from the outside looking in, and another once you're inside. Every group – Muslims, Latinos, Italians, Aryans – stick close to their mutual friends and terrorizes their mutual enemies. OZ is a wake-up call.
Two audio commentaries grace the set by series creator Tom Fontana and star Lee Tergesen. Extra features in the box include deleted scenes with optional commentary by Fontana, a featurette and a music video.
Coming March 19th, "Oz: The Complete First Season" will sell for $64.98.